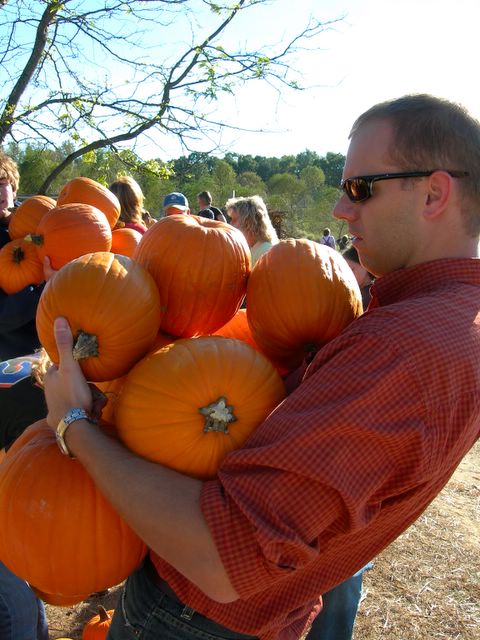 I spent the afternoon at Ashland Berry Farm - about 20 miles north of Richmond - out in the pumpkin patch picking pumpkins (how's that for alliteration?). Ashland Berry Farm has this great thing around Halloween where you take a hay ride out into their pumpkin patch and gather as many pumpkins as you can carry for $20. The deal is you can have several friends help out, and only one of you has to be able to hold all the pumpkins and take three steps. So we made it an afternoon youth group event and gathered 32 pumpkins, which four of us were able to hold and carry. The plan is to give them to Highland Springs Elementary School in Henrico County for the kids to decorate their classrooms - not a bad contribution for $80 and an afternoon spent enjoying another beautiful fall day.
So that was the upside of the afternoon. The downside was trying to download all the pictures from Ben's camera and transfer them to my computer via Hello, this new P2P picture-sharing software. That, coupled with my complete ineptitude at trying to add a simple picture to my profile on this blog (an hour isn't too long to spend on that, right?), has completely wilted any confidence I might have had in my technological savvy.
Yea Nature. Boo techno-hassle. Let's hear it for the pumpkin fiends...